Now, if you have any confusion concerning the 'North of East' language used above to describe the direction of a vector, let us clear that up now.
First of all, imagine an x, y coordinate system. Imagine that the positive y direction, which is pointed up, is North and that the negative y direction, downward, is South. Imagine that to the right, or positive x direction, is East, and that to the left, or negative x direction is West. Just imagine that the axes are labeled that way. These labels really do not necessarily have anything to do with any true compass directions. So, picture in your mind a coordinate system like this:

       N
       |
       |
W -----+----- E
       |
       |
       S

Imagine the tail of the vector at the origin of this coordinate system. If the vector lies directly along one of the axes, then it is said to point directly North, South, East, or West, obviously according to what exact direction the vector is pointing. If, though, it lies between two of the axes, which will almost always be the case, its direction is stated using the two axes between which it lies. For example, a vector pointing toward the right, rising a bit above the x axes would be mostly aimed East, but raised toward the North. It would look like this: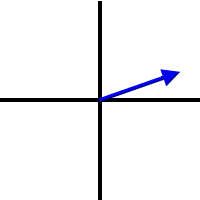 We would say this vector is directed a few degrees North of East. You could also think of it as pointing upward, but pushed quite a bit to the right. In that case it would be directed several degrees East of North. It is aimed North, but pushed toward the East.
All of this is easier seen than described. Try playing with the following active diagram. The color of the arc matches the color of the description for the direction. Just about every direction can be described in two ways. One not better than the other.